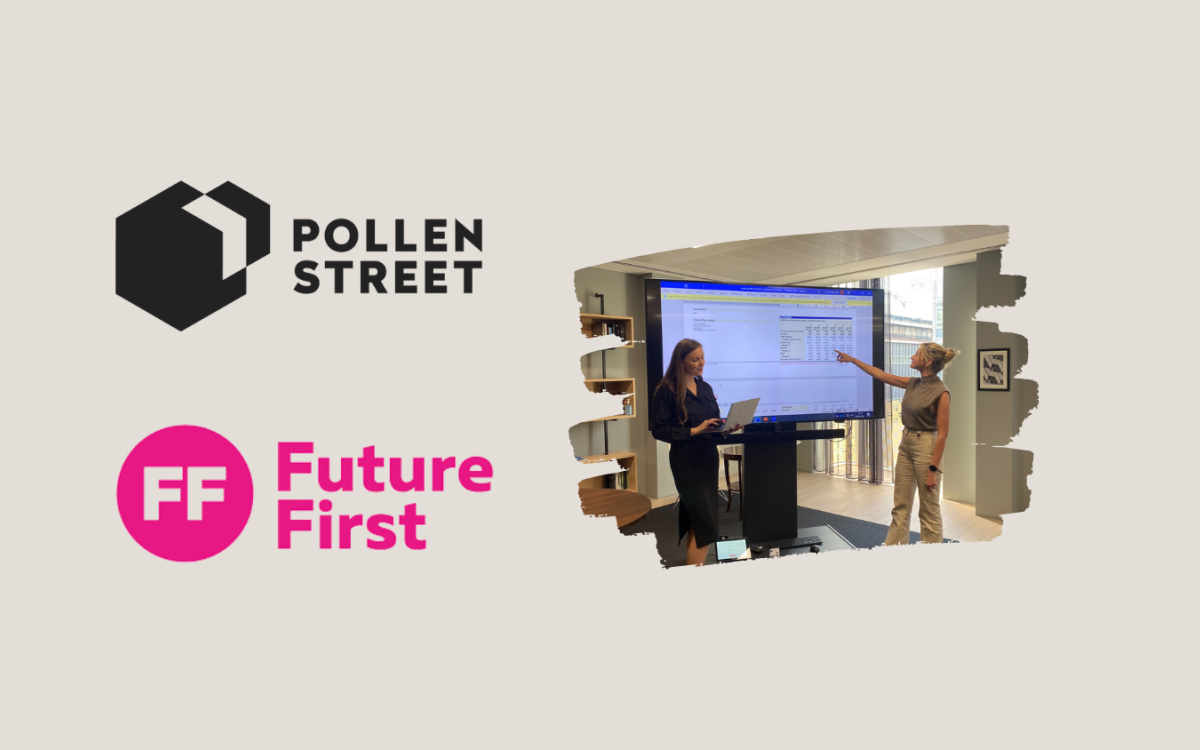 Pollen Street and Future First offer female students insight into Asset Management with hands-on training event
Pollen Street training event welcomes 11 student from five schools
Pollen Street last week hosted a new hands-on training event giving female students the chance to experience and understand what a career in Asset Management could be like. In partnership with Future First, one of Pollen Street's 'Ten Years' Time' strategic charity partners, the event saw 11 students from five schools attend the Pollen Street offices, led by members of the Pollen Street investment team.
Future First is a UK charity helping young people in state schools and colleges broaden their horizons by connecting them with former pupils and relatable role models. Future First provide schools and colleges with the technology, tools and support needed to mobilise their past pupil networks and have developed the Future First Hub, a safe and secure platform with the aim of making their network and content available to all children at all state schools.
Hands-on experience
The students worked in teams of three to five on a fun 'real-world' brief analysing companies. They then presented back as part of an "investment committee" process. Pollen Street's Anna Chittick, Investment Manager, and Linnea Malmsten, Investment Associate, made up the "investment committee" giving feedback on first round pitches for students to then build out second round presentations with ideas on how to improve their companies; including winning more business, expanding product lines and market reach.
Our investment team volunteers supported throughout, walking students through the basics of what metrics are used in evaluating companies and what they mean.
Pollen Street is passionate about opening up financial services careers to those who may not otherwise have access to the sector. The event follows a recent Insight Day where 20 students attended a general taster day exploring the different departments in a business with volunteers from all across Pollen Street.
Gemma Pullinger, Chief People Officer, commented: "Pollen Street is committed to driving a more diverse industry in financial services and beyond. We were thrilled to collaborate with Future First on this new hands-on event to broaden access and understanding of careers in financial services and asset management to those who might not otherwise have that opportunity. A huge thank you to our brilliant student attendees, our investment team volunteers and People team who worked to put this event together."