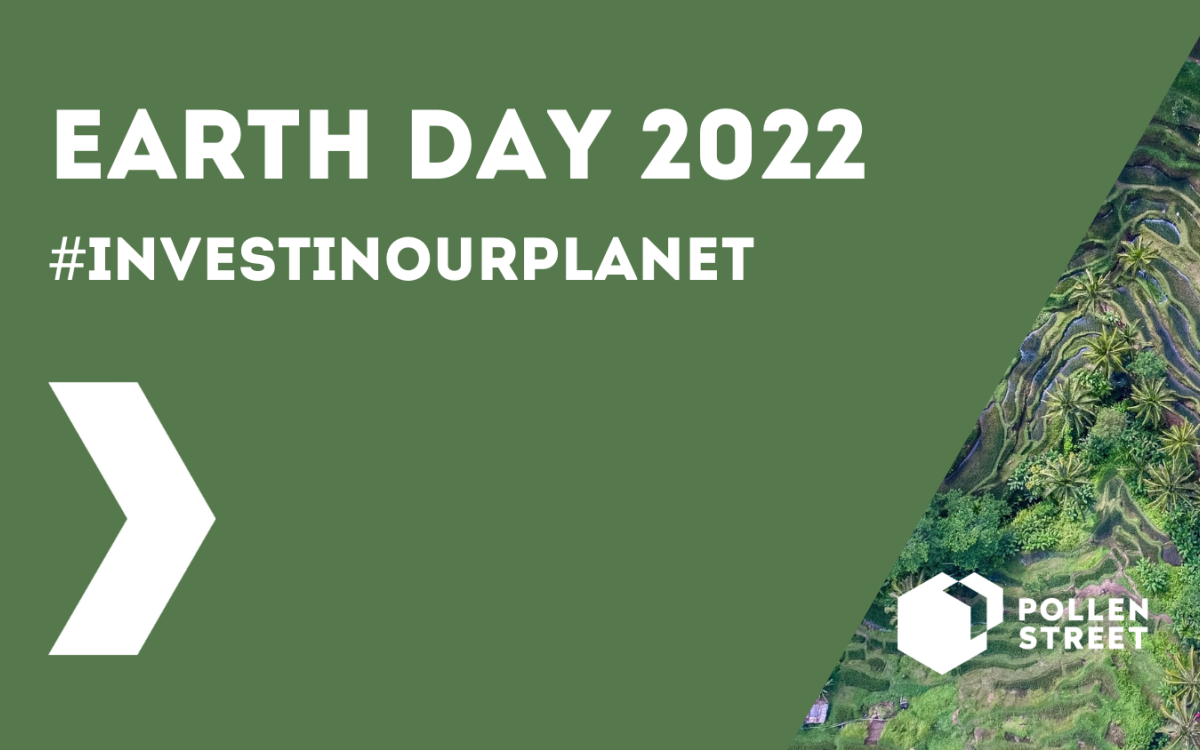 Earth Day 2022: #InvestInOurPlanet
An update on some of the key developments and what we're doing at Pollen Street to combat climate change
This year's theme is 'Invest in our Planet', a particularly relevant theme for us. The theme is focused on engaging the more than 1 billion people, governments, institutions, and businesses who participate in Earth Day to recognize our collective responsibility and to help accelerate the transition to an equitable, prosperous green economy for all. 
The effects of climate change are intensifying around the world with serious implications for individuals, businesses and broader society. COP26 and the recent IPCC report arguing that stabilising the climate will require fast action to meet the Paris goals of net zero greenhouse gas emissions by 2050. Financial Services can play a pivotal role to achieve net zero, funding green innovation and sustainable development initiatives.
We wanted to provide an update on some of the key developments and what we're doing at Pollen Street to combat climate change.
The evolving regulatory environment
Sustainable finance regulation is evolving at a dizzying pace, with a number of frameworks in place or in development, as governments and regulators look to develop a more sustainable economy that addresses the impact of climate change. Organisations will be held to account on disclosing their ESG impact, especially with regards to the environment and climate change, backing up ESG credentials and avoiding greenwashing. 
Financial institutions operating in the UK will be required to comply with a raft of new regulation around ESG, forming part of key frameworks: 
As these frameworks develop, there is still some complexity and ambiguity, but we are starting to see some convergence, for example the ESG Data Convergence Project, which Pollen Street has recently signed up to.
Establishing a portfolio wide carbon reduction strategy
We've just completed an assessment of the carbon footprint of the firm and its private equity portfolio.
We are using the data to work with our portfolio companies and credit partners to set targets and carbon reduction plans, as well as sharing practice via the Hub. BidX1 and Oplo have already made public commitments on Carbon Neutral, and we expect more of our portfolio to make commitments over the course of the year.
Investing via Private Equity and Credit to help real people go green
Across the portfolio, we are investing in a number of initiatives to help combat the effects of climate change. Examples include:
Tandem, the greener, fairer bank – recently planted 30,000 trees as part of its Tandem Wood Planting Day and has commissioned research which shows the scale of the challenge to support greening homes.
Bunq, a fast growing, digitally enabled bank – passed the milestone of planting 5m trees. As part of its easy green product, a tree is planted for every €100 spent
As part of its climate action commitment, BidX1 has made its first CDP disclosure, a cornerstone of its environmental and ESG commitment. This was featured in the CDP Ireland annual report
Shawbrook has strengthened data-driven climate risk analysis in its lending and risk framework - lending secured on residential and commercial property, an analysis of the energy efficiency of the property was undertaken together with an assessment of exposure to flood, coastal erosion, and subsidence. The bank has also joined Tech Zero, a climate action group for tech companies of all sizes who are committed to fighting the climate crisis
As we've highlighted before, reducing the carbon footprint and energy consumption of homes and transport is one of the key ways that individuals can have a real positive impact on the environment. 
Our credit facilities help lenders support UK households (which account for c.40% of the UK's carbon emissions) to both reduce their carbon footprint and to save money.
Onto, one of our credit partners, saved 3,985 tonnes of CO2 tailpipe emissions through their pure electric fleet.
We've also recently announced our partnership with Splend. This new facility supports Splend in providing affordable and eco-friendly cars to on-demand drivers. Splend has a target fleet size of 10,000 EV ride-share and delivery vehicles by 2024.
Going green at the firm level
We have set a target for the firm being carbon neutral by the end of 2022. This means that we will be reducing real emissions, where possible, and then offsetting the remainder through certified projects. In terms of practical ways we are reducing emissions, these include:
"Green" transport incentives: Cycle-to-work and electric vehicle scheme. 
Sourcing our electricity from a renewable energy supplier
Ensuring our cleaning company only use eco-friendly products when cleaning our space
What's next?
We will continue to strengthen our approach to assess and measure our climate impact aligned to TCFD, and also to seek out opportunities to create a positive environmental change at the investment and firm level.