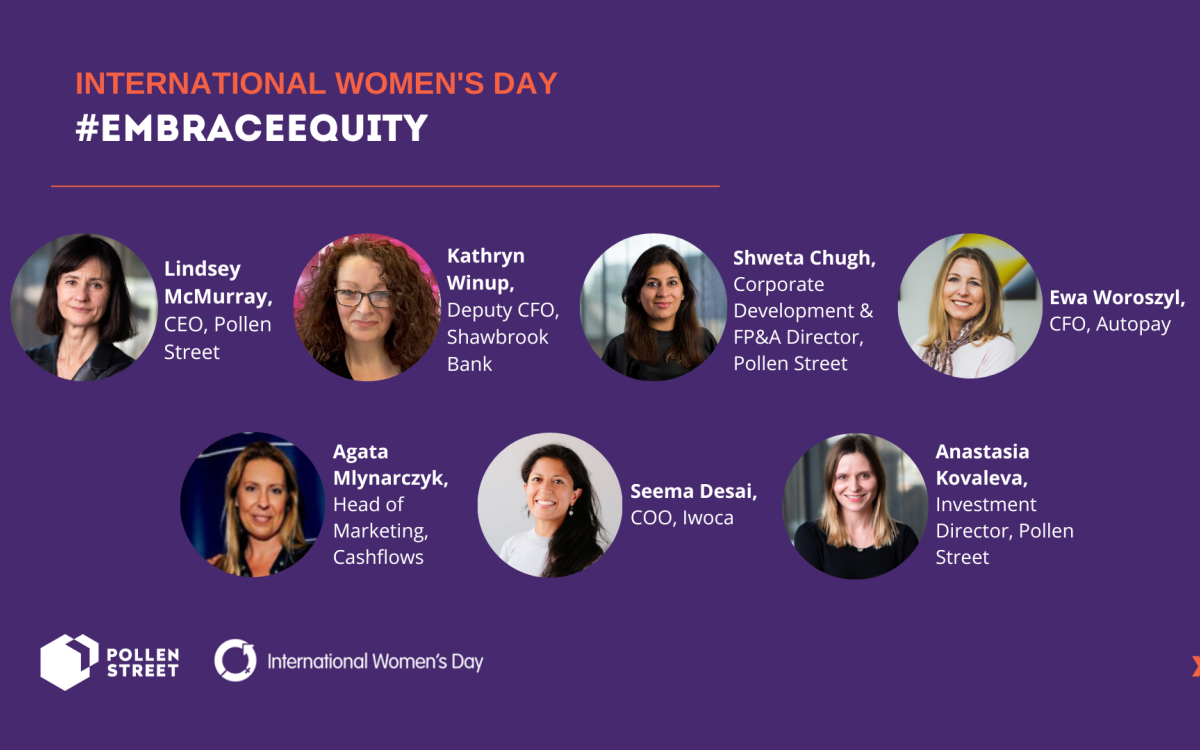 International Women's Day 2023: Embrace Equity
Hear from inspiring women across the Pollen Street firm and network on how we can "Embrace Equity"
At Pollen Street we value our differences. It is our different experiences, backgrounds, expertise, and identities that promote an environment of entrepreneurial and progressive thinking.
We are proud to mark International Women's Day (IWD) with people around the world celebrating the social, economic, cultural, and political achievements of women. The theme for IWD 2023 is "Embracing Equity," which emphasises the need to create a world where every individual has equal opportunities and access to resources to reach an equal outcome, regardless of their gender.
We often hear about equality when we discuss women's progress. Equality means that women have access to all the same opportunities as men. However, equality assumes that the playing field is level, which it often is not, and can leave women on the side-lines. Equity is the recognition that each person and their circumstances are unique and different resources and opportunities are needed to reach an equal outcome.
IWD is not just about or directed at women, instead it's about changing the social and working environment for 50% of the population, so that 100% can benefit - not just for one day, but for everyday. It is only through working together that we can create an equitable world.
International Women's Day also coincides with National Careers Week in the UK. Therefore, we have partnered with our charity partner, Future First, to share insights as students think about future careers, navigating the world of work. We've posed some questions to some inspiring women across the Pollen Street firm and network on how we can "Embrace Equity":
Lindsey McMurray, CEO, Pollen Street Capital (LM)
Kathryn Winup, Deputy CFO, Shawbrook Bank (KW)
Agata Mlynarczyk, Head of Marketing, Cashflows (AM)
Shweta Chugh, Corporate Development & FP&A Director, Pollen Street (SC)
Anastasia Kovaleva, Investment Director, Pollen Street (AK)
Seema Desai, COO, Iwoca, (SD)
Ewa Woroszyl, CFO, Autopay (EW)
Key takeaways
Be yourself, bring your whole self to work
Culture and values make all the difference
Communicate authentically and care authentically
Stay curious
Mentors come in all shapes and sizes, look for them everywhere
Believe in yourself. Take a leap of faith!
What was a big turning point or springboard for your career and what did you learn from that moment?
EW: The first biggest turning point was my PwC secondment to Dubai. I took the risk to go to a completely foreign culture with my whole family. In the PwC office in Poland, everybody knew my performance, and going to Dubai was a true test of my ability to prove myself in a very different environment.
AM: My big moment was realising that it's the culture of a business that makes the biggest difference to success. I've always worked hard and made good career progress, but never felt truly happy or settled until I started working within a culture that supported and aligned with my personal values and needs. 
KW: For me, it was when I became CFO for RBS International, whilst I had done senior roles in the Bank, this was taking on the full CFO role, being a Board director and taking on full accountability. I was encouraged to go for the role by the CEO and we had an honest conversation where I raised concerns over areas that I didn't know much about, but he said that I'd shown time again that I could adapt and take on new things and deliver, which was totally true.
I also think becoming a Mum made me much more focused on my time, what I'd spend it on and care less about certain things that I might previously have worried about.
What skills or leadership behaviours do you think have been most important for your career success?
LM: Recognising and valuing everyone in the organisation from the lowest level to the highest. Treating every single person as a valuable contributor.
KW: Being a leader needs you to be adaptable, sometimes you take control and are directive but other times your role is to encourage, motivate and guide your team. It's important to also show what you care about, who you are outside the office, to take calculated risks and to keep a sense of humour!
AM: Most important to me is taking control of the things I need to deliver. If I'm responsible for something I make sure it happens and I think as a result, my teams and my managers trust me to keep my promises. And I'm always learning. I read so widely I could open a marketing bookstore!
SD: Genuinely caring about the work you do and the people you work with is really important when you are leading teams. And being able to listen and communicate really effectively and authentically - both with peers, my teams or across the whole business. 
Have you had any notable mentors, and how have they helped you navigate your career?
LM: My husband.
KW: I think it's great when you build mentor relationships, they can help put things in perspective both professionally and personally. One of my mentors started his career as a bicycle messenger delivering post to branches and ended up as CEO, he was tough but fair and told me that 'a career is long, career trajectories can go up as well as sideways but don't dismiss a sideways move as you'll learn a lot from that opportunity.' It's about keeping an open mind and being curious. 
Also, I have some really close women friends – we all met at work and created an informal mentoring group so as we went through jobs, family issues etc they were a great sounding and support board.
SC: Yes, I have had relied on mentorship at various junctures of my career. I go out of my way to seek feedback when working closely with senior leaders. They have guided me through different options for career progression widening my outlook. They help me better understand my strengths and weaknesses, which when received early in your career allows you to be aware and work on them.
AM: I've been lucky to have a few really supportive managers, who encouraged and gave me the space and confidence to be successful. But if I'm honest, there haven't been too many mentors on my journey, and I wish there had been more.
What advice would you give to your 16-year-old self?
EW: Do not be afraid to imagine yourself on the very top of an organisation. Yes, it is all possible and achievable for you.
AM: Believe in yourself, you're more capable than you think. When you're bogged down in the day to day of corporate life, you can easily lose sight of what makes you happy. Take breaks and look after yourself, your contributions will be stronger as a result.
SC: Expose yourselves to variety of roles earlier on in your career. Invest in continuous learning and updating of skills.
LM: Consider the impact of your delivery!!
SD: To work hard because it does pay off! I think I made a lot of sacrifices when I was younger and put my education or my career first in many situations. 
AK: Don't doubt yourself. Take chances. It's important to "find your tribe". Trust your gut when something doesn't feel right – fit is more important than doing what others think is right.
What does a world where gender equity is embedded into the workplace or everyday life look like?
KW: Equity is about having the right support in place for all key life moments to support all genders in making sure they can achieve their full potential. If this is in place, e.g., supporting women through key life changes such as having a family, then it's about removing some of the stress that women experience in trying to juggle that and maintain and develop their career. 
Whilst things have certainly changed since I've been working, if gender equity was embedded then we wouldn't be having these conversations, it would just be the way it is.
LM: This needs to be part of key decision making.
AM: Clearly the basics need to be in place – diversity in hiring, equal pay and opportunity, flexible working policies and much more. But we need to see and celebrate diverse leadership and representation, because if you can't see it, it's harder to be it.
Young people who don't have access to relatable role models find it tough to imagine their own success. That's why I love the partnership with organisations like TechSheCan and Future First, it's about demonstrating the strength of diversity and bringing opportunities into reach of those who might otherwise feel limited.
SC: A world where the employers would not have to make "conscious" effort in making sure that their data on gender equity looks good and it becomes part of the BAU.
A world where we don't need to have quotas for women representation on Board, we naturally have balanced representation based on merit.  
A world where gender pay gap is NIL.
AK: Eventually, we may get to a world where both genders get treated the same in terms of opportunities given, etc. For now, however, we can't ignore the different barriers women face in the workplace from those of men (e.g., demands at home, childbearing), and we need to be open about these and take them into account to ensure a level playing field for women. Flexibility is important – everyone circumstances are different, personalities are different, preferred ways of addressing challenges are different. We shouldn't make assumptions. But we need to not be afraid to have a conversation about this.
If you could have dinner with (up to) three inspirational women, dead or alive, who would they be and why?
SC: Jacinda Ardern, Prime Minister of New Zealand – Leading a country through COVID whilst being a new mother at the age of 37 is truly inspirational. Indra Nooyi - Chairman/CEO, PepsiCo and Whitney Wolfe Herd, Founder and CEO of Bumble.
SD: Gwen Moffatt - the first ever British mountain guide, I've recently read her book and found her truly inspiring. Vivienne Westwood - I'm a fan of her British eccentricity, and the pioneering work she did to raise awareness about sustainable fashion. Fiona Hill - a foreign affairs specialist and expert on Russia, I recently listened to an interview with her and found her opinions to be really interesting and engaging.
AM: So many, but embracing my Polish roots I'll choose Iga Swiatek, a 21-year-old tennis player who is currently world number one. I'm humbled by how mature she is, her work ethic and the fact she is always looking to improve herself, taking responsibility for her success and never looking to blame when things don't go well.
LM: Hilary Clinton, Margaret Thatcher, Angela Merkel. Smart, state(wo)manly, calm, willing to be not always popular - Leaders not for themselves but driven by beliefs and values (whether you believe in those values…)
EW: Ursula von der Leyen to support her efforts to promote gender equity on increasing the representation of women in leadership position. Marie Sklodowska Curie as she won two Nobel Prizes which is remarkable considering the challenges she faced as a woman in the scientific community during her time.
AK: Arianna Huffington – to learn more about how she achieved so much in a male dominated world, while maintaining work life balance and not sacrificing on sleep! Amy Purdy – to soak in her boundless positivity, ability to thrive in the face of adversity, and pursue her dreams no matter what. Ruth Bader Ginsburg – to get her views on how to best approach gender equity, striking the balance between interfering and treating everyone the same.
KW: The Queen, quite remarkable that in the world we now live in with social media that no one really knew what she thought about all the people she met and the history she saw. My Nan, she had an interesting life and always bought books for my brother and I when we were growing up as she thought that imagination was very important, she died before I really got to know more about her life and living through the war, but she was a real character. Pink, she's amazing live and I like what she stands for, I think it would be a fun dinner!
The power of positive momentum
International Women's Day as a global event seems to build in profile every year. And while the recognition is important, it is even more critical to keep the momentum going. It is inspiring to hear from the wonderful women around Pollen Street and our portfolio and we hope that taking this time to reflect on their achievements, career journeys, advice and anecdotes has given energy and positivity for the year head. Importantly we hope that some of their – wise, funny, practical – words bring positive momentum for our businesses and beyond to continue towards real equity.