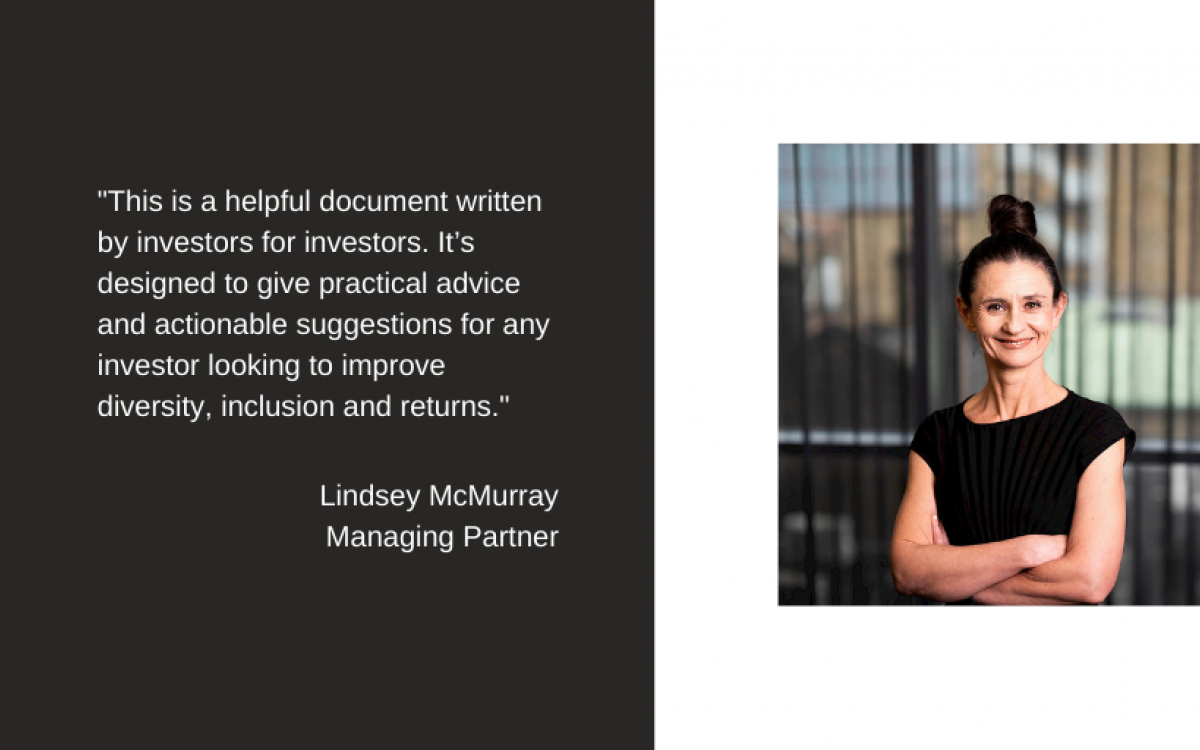 Leading investors and professionals come together to create a next-generation blueprint for Diversity and Inclusion in the investment industry
By investors, for investors: Leading investors and professionals come together to create a next-generation blueprint for Diversity and Inclusion in the investment industry
A number of leading venture capital and private equity investors have published substantial guidelines on Diversity and Inclusion in the investment industry.
Investors and professionals from the venture investment community have today released best practice guidelines to help increase investment in under-represented founders and drive diversity and returns across the investment sector.
The ''Guidance and best practice examples for VCs, private equity and institutional investors'' document was written by leading investors and professionals including Atomico, Pollen Street Capital, Ada Ventures, Adelpha, Astia, KPMG, Diversity VC and Diversio.
The guidelines are being published by the British Venture Capital Association as a resource offering practical advice and best practice suggestions for all investors, regardless of what stage or sector they invest in, with a focus on four key areas:
Talent acquisition, retention and development.
Internal education, culture and policy.
Outreach, access to dealflow, and unconscious investment bias.
Influence, external guidance and portfolio management.
Commenting on the new guidelines, Lindsey McMurray, Managing Partner at Pollen Street Capital and Council member commented:
"This is a helpful document written by investors for investors. It's designed to give practical advice and actionable suggestions for any investor looking to improve diversity, inclusion and returns. Tangible action to ensure diversity across the investment industry is important to uncover and fund innovation but also from a performance perspective. Case in point, research increasingly demonstrates that firms with more female executives outperform less gender diverse peers."
Camilla Richards, Atomico Partner and Head of Investor Relations and a member of the Council for Investing in Female Entrepreneurs added:
"The conversation on Diversity and Inclusion has gained momentum in recent years, however we are still yet to see that translating into real action. Progress on gender diversity in European Tech stagnated in 2020, with all male teams capturing 91% of all capital raised (vs 90% in 2019) and 85% of all rounds. As an industry, we all need to work together to ensure we level the playing field, and support founders from underrepresented groups to succeed."
Addie Pinkster, CEO of Adelpha and Rose Review Board member, who co-authored the guidelines commented:
"We've targeted the guidance at Venture Capital funds and Private Equity funds but I'd encourage all investors to read it. All investors I speak to understand that diversity drives returns by providing access to unique and high-conviction investment opportunities whilst also optimising portfolio performance. On top of that, funds are increasingly under pressure from their own investors to demonstrate the existence of an active Diversity and Inclusion Policy.
So the demand is there, but it's not always easy to know 'how' to improve on diversity and inclusion. That's where this document comes in, giving straight-forward advice on what 'good' looks like, how to get there and the enormous difference it can make to workplace culture, reputation and, ultimately, performance."
Bina Mehta, a member of the Council for Investing in Female Entrepreneurs and KPMG Partner who works with scale up businesses added:
''Encouraging the investment community to support our under-represented entrepreneurs and business founders could provide a massive boost to the UK economy. There is a huge amount of talent to be unlocked from focussing on widening diversity across the investment community.''
Laura McGee, Founder and CEO of Diversio, the diversity data company endorsed by this report, added:
"Diversity & inclusion can give investors a massive business advantage, but it won't happen on its own. Diversio specialises in helping investors achieve D&I in these four areas using metrics, tracking, and data-driven recommendations. Our clients are living proof that what gets measured truly does get done."
Francesca Warner, Founding Partner of Ada Ventures, Co-Founder and CEO of Diversity VC and a member of the Council, commented:
"The VC Guidelines work hand-in-hand with the Diversity VC Standard (a first of a kind assessment and certification for VC funds which we launched in 2020) and we're pleased to have been part of putting together this evidence based set of recommended actions to build inclusive systems and organisations."
Kathryn Parsons, MBE who is Co-Founder and CEO of Decoded and a member of the Rose Review Board added:
''We need to deeply reflect on the fact that only 1% of venture capital in the UK is currently invested in female founders. If venture capital is meant to invest in the businesses of the future, they are sending a clear message that they do not believe that women have a place in that future.''
Gurpreet Manku, BVCA Deputy Director General & Director of Policy, and member of the Rose Review Board commented:
"The BVCA, as the industry association for venture capital and private equity, champions diversity and inclusion across our sectors. Today's guidance clearly sets out the steps firms can take to increase the impact of their D&I activities and we remain committed to our role in this important conversation, sharing ideas and highlighting examples of best practice."
About The Rose Review into Female Entrepreneurship:
The guidance follows the publication of NatWest Group CEO Alison Rose's review of female entrepreneurship in 2019 - The Rose Review - which found:
Just 13% of senior people on UK investment teams are women
Almost half (48%) of investment teams have no women at all
Only 1% of UK venture funding goes to to all-female founders
Only 4% of deals relate to all-female founded teams
The Rose Review into Female Entrepreneurship was fronted by NatWest Group's CEO Alison Rose, at the request of the UK Government, and set out to identify the disparities between male and female entrepreneurs when starting and scaling businesses, and the barriers facing women which cause this.
The review was published in March 2019, and identified five key barriers that influence women's ability to start, scale and grow new businesses, compared with men. NatWest Group publishes an annual update on progress made within the industry each March.
Impact of the Rose Review:
In direct response to the Rose Review, several meaningful structures have been put in place with regard to UK entrepreneurship:
The Guidelines for Venture Capital, Private Equity and Institutional Investors have been published today, offering practical advice and best practice examples for investors looking to improve diversity, inclusion and returns.
The Investing in Women Code is a commitment to support female entrepreneurship in the UK by improving women's access to the advice, resources and finance needed to build a business and we recommend that all financial organisations become signatories to the Investing in Women Code to support the advancement of female entrepreneurship in the United Kingdom by improving access to tools, resources and finance from the financial services sector.
The Rose Review Board and Council has proudly supported the Diversity VC Standard, an assessment and certification process that sets a benchmark for best practice on Diversity and Inclusion (D&I) in VC and sends a signal that a fund follows best D&I practices to the rest of the ecosystem.
The Council for Investing in Female Entrepreneurs was formed in 2019 to find solutions and increase the amount of funding from the alternatives and venture capital (VC) communities going to all female-founder businesses. The Council is made up of representatives from leading institutional investors and investment banks.
The Invest in Women Hub, to be launched soon, is an online information hub for female entrepreneurs to help start and scale their businesses, including resources to help get funding.
Read the full guidelines here.
About Diversity VC:
Diversity VC is a non-profit partnership that aims to create a fairer and more diverse Venture Capital industry. To stay informed about findings and events, you can subscribe at www.diversity.vc or alternatively contact info@diversity.vc
About Diversio:
Diversio is a data and consulting company that uses artificial intelligence to help organisations become more inclusive. Our work with investors includes helping them improve their internal Diversity & Inclusion scores through a web-based dashboard, and helping them promote inclusion within their portfolios through our Portfolio Assessment. Diversio's technology is used to power the Diversity VC Standard launched in 2020.
About Adelpha:
Adelpha is a female-led corporate finance boutique that works with best-in-class UK growth companies. Founded in 2017 by Addie Pinkster, Adelpha has advised on over $250m of transaction value in UK companies in the last 12 months.