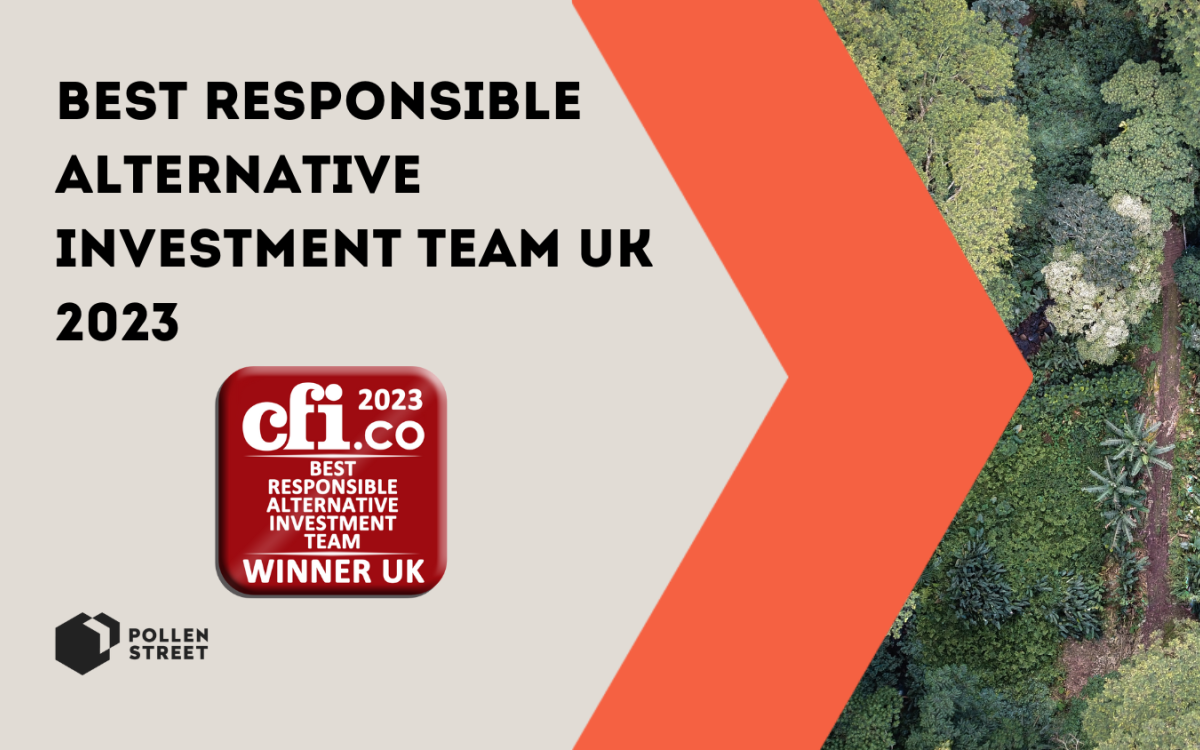 Pollen Street Wins Best Responsible Alternative Investment Team UK 2023
CFI.co names Pollen Street Best Responsible Alternative Investment Team UK 2023
Capital Finance International magazine (CFI.co) has named Pollen Street Best Responsible Alternative Investment Team UK for 2023. 
This is the third year that Pollen Street has been recognised for responsible investing by CFI.co. In its citation for the award CFI.co highlighted Pollen Street's expansion of its ESG data collection and creation of a proprietary scoring mechanism over the last 12 months to track and build on positive impact as a firm and portfolio.
The judging panel also noted Pollen Street's prioritisation of diversity, equity and inclusion highlighting statistics from the firm's most recent DE&I survey which showed women made up over a quarter of portfolio company executive committees and 64% of the Pollen Street team are state educated
Lindsey McMurray, Managing Partner at Pollen Street said, "We treat ESG data collection with the same rigour we would any other strategic driver of our business. Our purpose is at the heart of our strategy and the work we have done over the past year around data and scoring as well as around DE&I is a real expression of that purpose. We are thrilled to be recognised for a third time by CFI.co for our focus on being a responsible investor, this award is testament to the hard of work of our whole team over the past year." 
The judging panel's full report:
Pollen Street is a purpose-led alternative asset manager that has embedded ESG data as a strategic source for impact propositions. The firm is a pioneer of diversity, equality and inclusion (DE&I). Lindsey McMurray, the firm's Managing Partner, was recognised as a diversity champion of 2021, and Pollen Street has received high commendation for championing women's equality. Over a quarter of the executive committees for the private equity portfolio are women. Pollen Street's second internal DE&I survey shows that 64% of the firm's employees are state-educated, and 17% come from ethnic minorities. Active management and engagement have spurred the average portfolio gender pay gap to decrease by 6%. Over the past 12 months, Pollen Street Capital has expanded ESG data collection and developed a proprietary scoring mechanism to ensure it's better equipped to track and build on positive impacts. The ESG data model allows the Pollen Street team to rank and score investments using 50 data points from each portfolio company. The scoring system helps the team set targets, measure progress and design improvement plans. All of its portfolio is addressing ESG concerns at the board level and 40% have formulated net-zero or carbon-neutral commitments. The CFI.co judging panel presents Pollen Street Capital – a repeat programme winner – with the 2023 award for Best Responsible Alternative Investment Team (UK).
Please see CFI.co for more information on the judging panel and criteria.