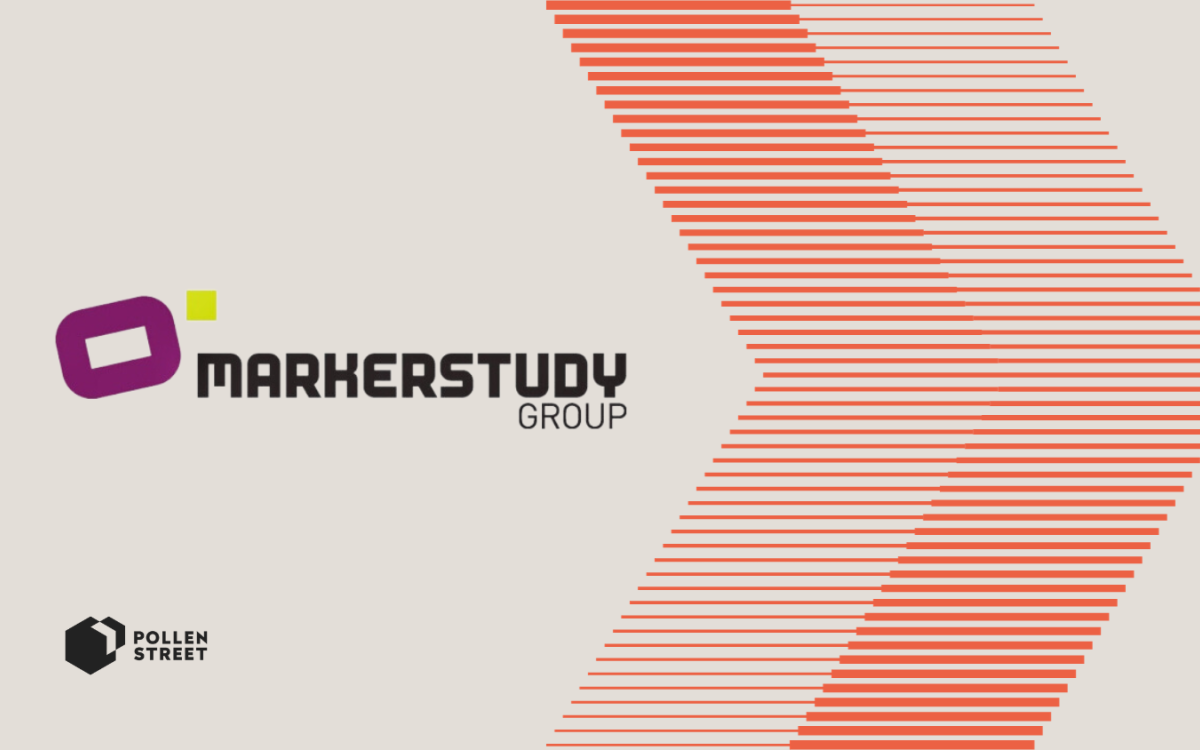 Driving growth in insurance; transformational M&A
Supporting the growth trajectory for Markerstudy
We have an impact by adding value to the companies we invest in, growing them and creating a return for our investors. Pollen Street has a consistent approach to this across our portfolio companies.
Our plans for growth are informed and honed by our expertise as a financial and businesses services investor. We focus our understanding of this large and diverse industry through 5 sub sectors where we see the best opportunities for us to add value.
Insurance is one of those sub sectors where we see clear investment themes and opportunity for great businesses to disrupt and take share. It is a sector where we have deep expertise and understanding of both organic growth, acquisitions and digital transformation as accelerators for businesses to become market leaders. We have been working with companies in the sector for many years with success stories like Specialist Risk Group, completing 11 acquisitions into the business during our investment and with new investments like Wide Group in Europe.
The sector displays a number the key 'megatrends' that we look for across financial and business services as well as favourable dynamics for us to drive growth.
The insurance market is resilient. Over the last 20 years it has grown at around 3-4% per annum with limited impact from volatility following the financial crisis and the Covid-19 pandemic. Growth is steady which is an attractive dynamic, however there is a clear opportunity to accelerate.
In 2021 we invested in Markerstudy Group, at the time the 5th largest motor insurance provider in the UK. The business was a technology-led, multi-channel UK personal lines insurance platform which had developed a strong market position across 19 years through a combination of organic growth and acquisition-led expansion.
With a strong foundation, Markerstudy was well-positioned to grow through operational improvements, helping the business to be more efficient, continued transformation in technology and digital, and development of route-to-market through direct channels. And, with a fragmented market in UK retail insurance distribution, through strategic M&A.
Value creation to grow; M&A to accelerate
Pollen Street operates a time-tested approach to value creation. We have employed this consistently over the last 17 years of working together as a team to drive growth in all macro-economic conditions. This approach to value creation looks at; tech innovation and digital transformation, expanding across geography and product development, improving and embedding ESG strategies to build better businesses and of course mergers and acquisitions to accelerate the organic growth we are creating.
Since inception, and recently with the support of Pollen Street, Markerstudy has demonstrated a track record of successful acquisitions and integration to unlock value.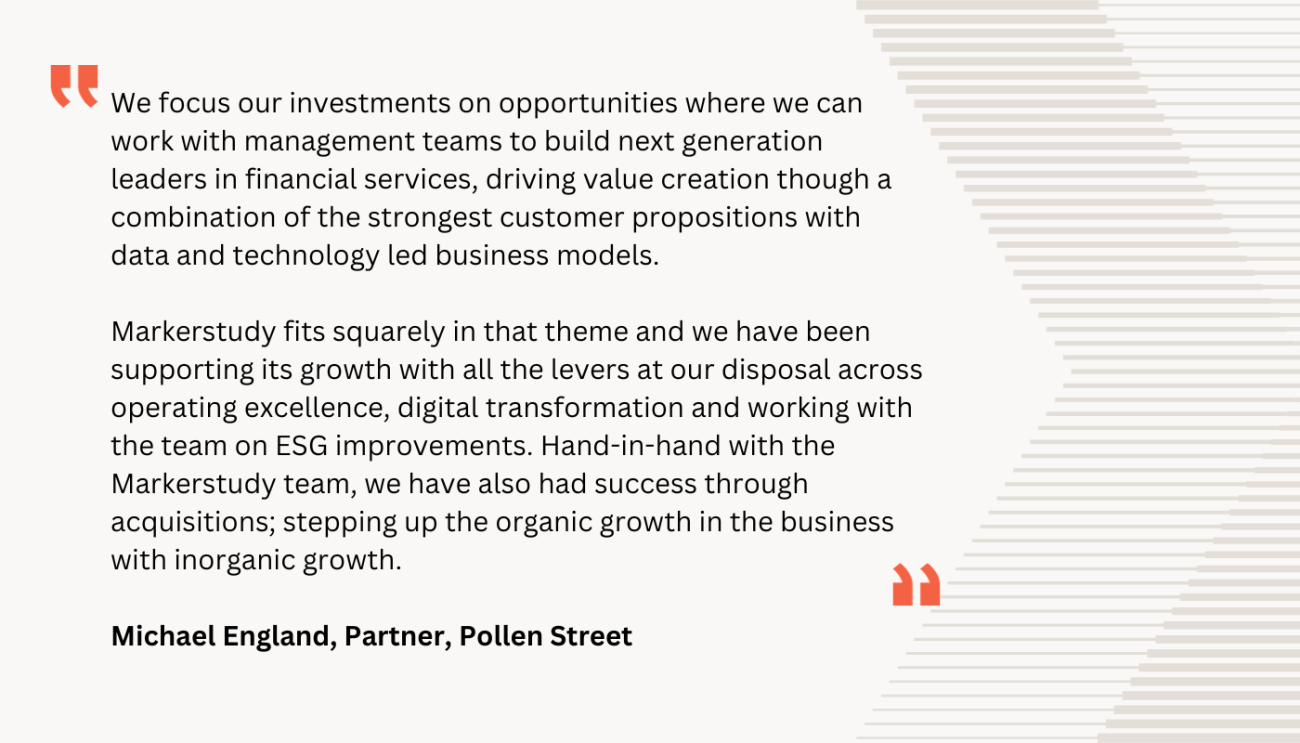 In 2021 Markerstudy acquired Brightside Group, a specialist in providing niche insurance across a wide range of personal lines and commercial products. This was the first acquisition since Pollen Street's investment and demonstrated how well the robust framework for integrating new businesses into the group worked, to deliver value through M&A quickly and effectively.
Markerstudy and the Pollen Street team followed this at the end of 2021 with the acquisition of Lloyd's broker Clegg Gifford. Founded in 1968 Clegg Gifford was one of the largest family-owned independent brokers in the UK. The acquisition represented an important investment providing Markerstudy with access to the Lloyd's market as well as widening its commercial offering into the SME space.
This was swiftly followed by the acquisition of BGL Insurance (BGLi). BGLi is a leading distributor and the acquisition was a key strategic step forward in bolstering Markerstudy's distribution capabilities. The digital and data capabilities in BGLi also accelerated a number of aspects of Markerstudy's digital agenda. Equally, the innovative underwriting capabilities at Markerstudy represented an opportunity to accelerate growth at BGLi, enhancing its customer proposition.
These acquisitions demonstrate a powerful growth engine in successful M&A integrations for Markerstudy. Each deal had added strategic elements to the Markerstudy business and offering, whether extending distribution capabilities, bringing excellence in data and digital, access to the Lloyd's market or broadening product offerings.
Transforming through M&A: building a market leading consumer-first insurance player
We recently announced the merger of Markerstudy Group and Atlanta creating a major player in UK general insurance. The combined business is a leading diversified insurance platform, strongly positioned in the UK insurance market.
The competitive positioning of the combined group has the potential to be market leading and already has real scale and diversification from day one with:
A highly diversified product proposition centred on the consumer
An exceptional stable of brands with record of great customer service and brand recognition
Data and tech driven pricing and product design capabilities – at scale
Robust and efficient operating platform working alongside extensive automation capabilities
Additional service capabilities across the value chain with repair, service and telematics
An excellent track record in M&A
Through this large and transformational deal, the newly combined group delivers on some crucial elements that can accelerate growth for Markerstudy. Markestudy has been consistently building out its distribution model. When combined with Atlanta the result is a highly effective distribution business, with well-known brands that have loyal customers and are trusted in the market. Atlanta of course brings a leading offering in retail products as well as scale as a leading retail insurance broker managing c.£1 billion of GWP on behalf of 2.6 million customers. It distributes a broad suite of products through household insurance brands including Swinton, van specialist Autonet and leading motorcycle experts Carole Nash.
Importantly, the two businesses together have strong digital platform that can drive growth while making sure that customer service and experience is excellent, keeping and growing a loyal customer base.
Investing in digital as the foundation for growth
For Markerstudy, continuous investment in its' digital capabilities has proved a driver for organic growth as well as improved efficiency. Now the Markerstudy digital platform benefits from high levels of automation, an integrated data platform and in-house data sourcing through VisionTrack. The business recently launched an online claims portal that allows customers to upload supporting information for certain types of motor claim, such as fire & theft. By linking this with back office systems, Markerstudy has significantly reduced the claims cycle time. This helps deliver a great customer experience, and allows claims personnel to focus on the more complex cases that require a human touch.
Atlanta has a similarly well-invested digital estate and so the combined business is able to benefit from further operational improvements, making use of the existing platforms and streamlining by using the best solutions from across the group in key products and brands.
The growth trajectory for Markerstudy has been impressive since it was founded in 2001. Since joining the Pollen Street portfolio in 2021 we are thrilled to see how our plans and efforts have accelerated this. The team at Pollen Street has been able to support the business making use of all the growth drivers that make up our established approach; helping to deliver technology innovation and digital projects, product development, ESG and the clearly transformational acquisitions that have built on the momentum of each of those elements.