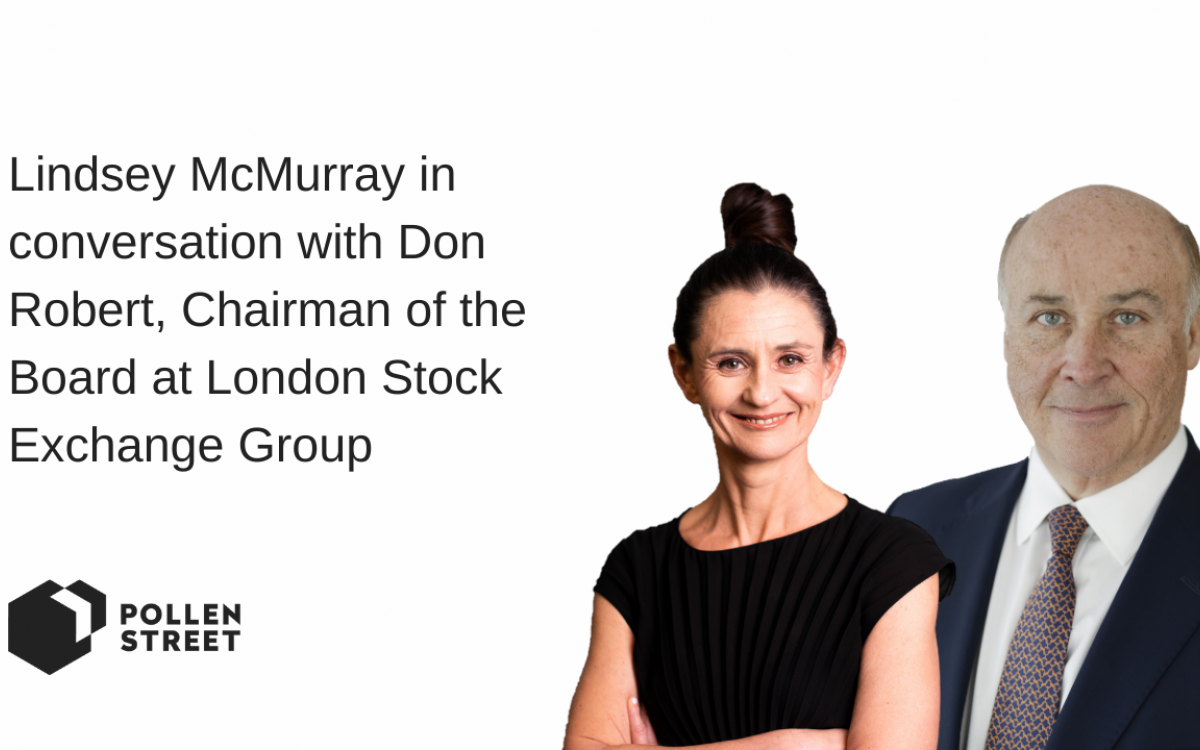 Lindsey McMurray, Managing Partner at Pollen Street Capital, in conversation with Don Robert, Chairman of the Board at London Stock Exchange Group
Lindsey McMurray looks back on 2020 and the opportunities change creates
Tell us a bit about Pollen Street Capital
We created Pollen Street Capital to back entrepreneurial businesses positioned to benefit from the huge structural changes in the financial services industry. We identify and champion businesses on the cusp of transformation, agile firms able to deliver something better to customers otherwise underserved by mainstream providers.   
We identified that the global financial crisis would be a monumental catalyst for unparalleled structural change. Firstly, the large incumbent players, encouraged by shareholders, regulators and their own boards, set about to simplify their business models and hence increasingly focussed on the commoditised/vanilla markets.  Secondly, customers, faced with improved service and delivery across other sectors, were demanding more and better products and services rather than the mediocrity of the universal service providers.  Lastly, data and technology enabled those nimble, fleet of foot businesses to deliver high quality products and services to businesses or individuals with better service and price. This is where our 'sweet spot' exists – dynamic businesses that have the agility and customer loyalty to anticipate and meet change.
2020 was a memorable year for all of us, what was the impact on Pollen Street Capital?
It's our ethos to see the opportunities that change creates, so I always try to see the positives in these situations.  The pandemic has shown there are huge opportunities for businesses to accelerate change in the industry.    
With a solid and well positioned portfolio, our teams have continued new business apace.  In Private Equity, we executed 8 acquisitions, entered 17 Strategic partnerships, accelerated our digital transformation projects and hosted five Pollen Street Hub events.  We also welcomed Tandem Bank to the portfolio, and co-sponsored our wealth management SPAC with the IPO of Kingswood Acquisition Corp and finished the year with a successful exit of Specialist Risk Group.
In Credit, our structured facilities are designed to be highly resilient in a stressed environment. This was tested during 2020 and as we entered lockdown in March, we worked closely with our partners daily enabling us to have a balanced approach of prudence and support, as well as gathering granular insights from data collected across our credit positions.  We are very pleased with the performance and now even through continued lockdown, our credit counterparties are well positioned to take advantage of opportunities of creating thoughtful, prudent and market leading products.
Overall, we have seen strong performance across the portfolio, which has proven to be extremely resilient and adaptive to the changing landscape.
The successes we've had this year are testament to the dedication of our teams and our portfolio partners, who've worked passionately and efficiently, embracing the winds of change.
Of course, we faced some challenges during the year and in the midst of the pandemic, one the team rose to admirably was around the PSSL vehicle.  Having assumed management of a challenged portfolio in 2017, by 2020 we had turned the portfolio and its performance around.  It was disappointing to lose the management of the vehicle but I am extremely proud of the team for their utterly professional portfolio management throughout a difficult time and as a group we continue to be proud of the performance in PSSL to double EPS in three years. Our resilience and teamwork clearly demonstrated the culture and values across the business that positions us strongly as we look forward.
Where do you see the best opportunities?
The opportunity to harness our strategy to accelerate positive impact in our industry has never been so exciting and powerful.  The pandemic has shown that now more than ever, there are huge opportunities for businesses to accelerate change in the industry.  The combination of the absolute need for transformation (almost universal acknowledgement that it is not an option) combined with great need for trust in our partners/counterparties, have been themes at the core of our strategy, ethos and way of working from inception.  Of course, the relevance of digital capabilities has never been more valuable.   As a result, huge opportunity exists for the businesses we partner with in both our private equity and credit businesses.
The financial services sector is vast in scale but also diverse.  It touches our everyday lives and that has never been more noticeable than in lockdown.  By accelerating change in financial services, we can have huge positive impact in the overall economy.
Within Private Equity, especially with an experienced partner like Pollen Street, strong market share gains can be achieved by harnessing technology to improve and expand services that align with customers' evolving demands.  For Pollen Street Capital, our ability to deliver demonstrable digital expertise is a key competitive advantage in attracting these businesses to our portfolio.
In Credit, we see large and growing opportunity for non-bank lenders to serve customers that are underserved by mainstream banks with bespoke and appropriate products. At Pollen Street Capital we provide capital to these non-bank lenders backed by the loan assets they originate. We aim to be a financing and insight partner. We work with the most progressive lenders who have solid lending offering based upon meeting under-served customer needs with considered and responsible products.  Such lending supports local communities through financing SMEs, developing affordable housing, improving the energy efficiency of property, creating employment, and driving financial inclusion.
How do Pollen Street Capital's values support your ability to execute on these opportunities?
We have worked hard to build a values-based organisation. We have spent the last few years building out, and refining, our values at Pollen Street Capital. We became bold enough to embed caring as a value, which can be an uncomfortable and soft word in Asset Management, but this simple and meaningful value drives everything we do at Pollen Street Capital. This applies to our investors, our portfolio and investment partners, our employees and, increasingly, through the integration of ESG, to a broader group of stakeholders.
Where does ESG fit in?
The financial services sector has a huge role to play in positively impacting the course of climate change which is why the PRA now requires all banks to have a Climate Policy.  This can include large incumbent banks reducing their funding of fossil fuel projects but can also be through the funding provided by many of our partners to improve energy efficiency and reduce the carbon emissions from property and going forward transportation.  Financial services also have a huge role to play in supporting community and financial inclusion.  ESG is integrated through all parts of our strategy.
One area I'm particularly proud of is our flagship ESG programme "Ten Years' Time", which we launched this year. Our aim is to connect our ESG impact, our people and expertise with causes and initiatives that reflect our values, and for our people to go beyond our portfolio to create a meaningful difference in the world. We've partnered with some really exciting ventures, including Blue Ventures, Future First and the Big Issue, to provide strategic insight that helps drive their progress forward.
I remember having breakfast with you in 2017 when you were trying to bring together the capability and power of your portfolio companies, you have now turned that into the Hub, tell me a little bit about that?
You have provided some of the most important insights and advice to me over the years and I clearly remember that on the way out from a breakfast meeting with the portfolio CEOs at that time, you said to me "you won't make this work unless you put resources behind it". And so that's what we did.
We really want to accelerate the progress of the sector in a way that draws on the capabilities of the entire portfolio, and in doing so, drive revenue at an accelerated pace, create a community of trust, partnership and implement best practice across each operating model. Since 2018, we've created multiple Hub initiatives to address portfolio-wide issues, through knowledge sharing workshops, network nurturing, development of solutions for common opportunities such as digital marketing, data and technology, as well as advancing the ESG agenda.
We're now building centres of excellence and during the year we have built out our digital and technology skill base, adding David Jones to work with Gilad Amir in the Hub to provide strong leadership and guidance to enable our portfolio partners to accelerate their pace of change.
What are your final thoughts?
The opportunity to accelerate progress in Financial Services is profound.  Pollen Street Capital has the capabilities and values to be a strategic partner to unlock these opportunities, and we want to be a force in driving that change for good.
On a personal level it has been a momentous year.  As you know, my lovely daughter Grace was born with profound hearing loss.  You were the first person I called when I found out.  I cried as I did not know if she would develop as a hearing child.  This year she entered Reception in a mainstream school – with the speech and language skills of a 7-year-old.  Her courage, happy outlook, and kindness put a smile on my face every single day. When Grace was born, my husband and I set up a foundation, The Grace Fund, to support and enable positive change in the wider world too.  The foundation's main activity is to develop and produce, with an Oscar and BAFTA winning media company, documentary films to advance climate action initiatives.  With its inaugural major project in 2020, it has produced a very exciting film, From Devil's Breath, which will be released in Summer 2021.