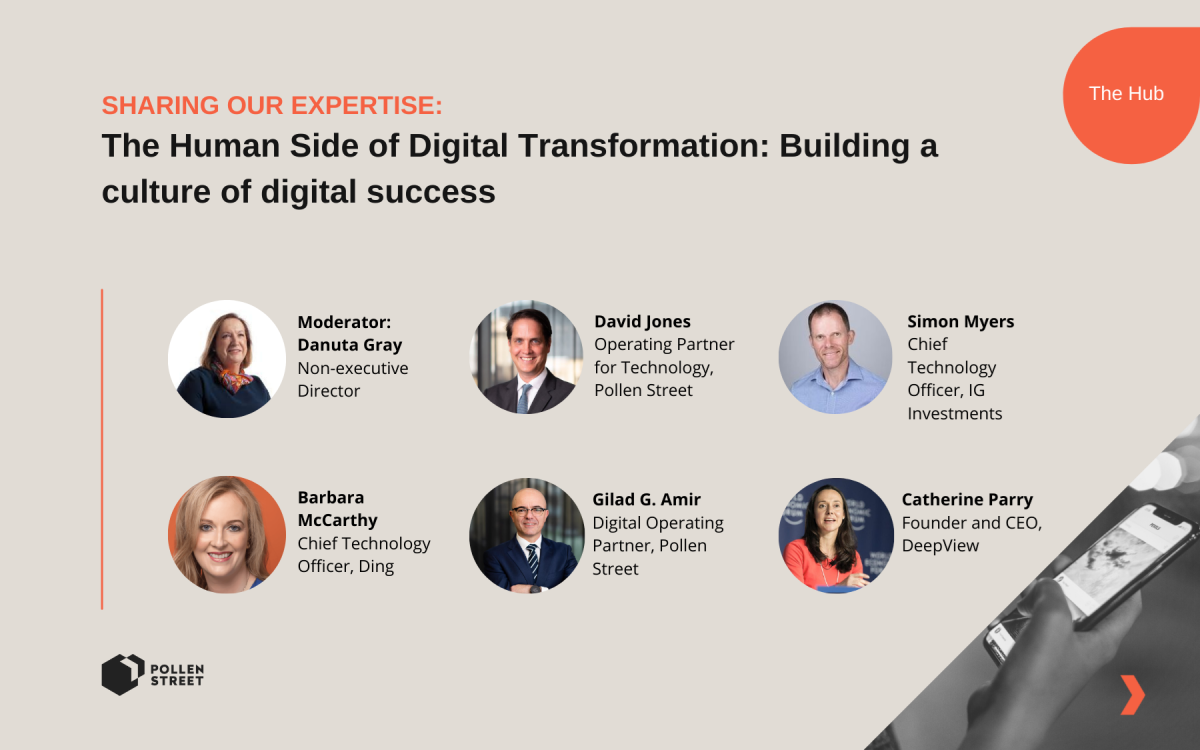 The Human Side of Digital Transformation: building a culture of digital success
The Pollen Street Hub recently hosted a webinar digging into the importance of the human side of digital transformation, including how to build a culture of digital success.
It's well acknowledged that the adoption of digital has accelerated in the last couple of years, not least as a result of the pandemic. Digital adoption has been at the forefront for organizations, industry and wider society as we shift the way we operate and consume services.
"Digital Transformation" means everything and nothing. While digital transformation varies hugely from business to business, there is a common theme – it allows companies to do more. But one thing is clear: digitally mature enterprises understand that transformation is much more about people than it is about technology. It's about building customer value through customer and employee experience. It's about cultural shift, leadership mindset and change management. Of course, technology strategy is an important piece – but getting the human element right helps create real competitive advantage.
The Pollen Street Hub recently hosted a webinar digging into the importance of the human side of digital transformation, including how to build a culture of digital success.
There were four key takeaways from our expert panellists to unlock our understanding of the human element of digital transformation:
Establishing the drivers of success
Leading with courage
Building a culture for digital success
Attracting and retaining the best talent
Moderator and panellists:
Danuta Gray - Pollen Street, Adviser
David Jones - Pollen Street, Operating Partner for Technology
Gilad G. Amir - Pollen Street, Digital Operating Partner
Barbara McCarthy - Ding, Chief Technology Officer
Catherine Parry - DeepView, Founder and CEO
Simon Myers - IG Investments, Chief Technology Officer
The drivers of success
The session kicked off by setting out the drivers of success for digital transformation. Noting that although transformation will feel different for different companies, there is consistency in the criteria for success.
Barbara established three key drivers of success: "If you can really clearly articulate the vision, mission and objectives, plus your path to achievement and be very clear on the KPIs then you will go a long way towards achieving success."
Applying a specific financial services view, Gilad highlighted another crucial driver of success, saying: "In the context of financial services the core is the ability to evolve and transform the risk, compliance and underwriting functions to fit the digital world."
"Once there is a clear understanding of how the risk and compliance and underwriting functions can transform by better using data, analytics, automation tools – as well as understanding how to capture data form the customer in the most frictionless way - then all the rest is details."
A final important driver of success that shone through in the discussion was the importance of a holistic view.
Barbara explained: "When I say Digital Transformation I mean technology, data, processes, organisational structure, culture, all of that holistically. Because essentially without all those pieces you're not going to bring the hearts and minds of the people in your organisation with you on the journey. And if you can't do that, you're not going to be able to achieve the end goal that you determine."
Gilad takes the idea of a holistic view a step further by redefining what we mean by digital transformation: "I think that the issue with digital transformation is the term digital transformation – because it may imply digital, or tech is the issue. Which it isn't. If we call it business transformation with digital, then we will see the world in a completely different way."
The importance of keeping a broad definition was also emphasised by Simon, who said: "It is not just about the technology, it is about all aspects of your future operating model, and you need to be prepared to change all of it if necessary to get where you need to. Having leadership that has that courage and puts themselves front and centre of that agenda is absolutely critical."
Leading with courage
This of course leads us to a fundamental pillar of transformation and a truly human element: Leadership, starting at the executive level. So, what are the changing expectations of leadership and what does good look like in leading a digitally enabled business?
Catherine Parry brought a personal perspective: "The most important for me as a CEO is keeping clear on the vision. It is very tempting to focus on other commercial opportunities. And that energy as a CEO is great but it is really crucial to keep to the vision so that everyone feels clear in their role."
Of course, that responsibility takes courage, something that Simon referenced in the bravery needed from leadership to look at their business and take it apart, to build it from scratch for the future.
Fundamentally that courage needs to come from the C-Suite, and the Board. But Simon noted: "there is only so much leverage we can get from those senior people. It really does go down through the organisation's many levels, to the hearts and minds of those people who can really play a part. It is critical that everyone has that level of courage and self-reflection to change."
Building a culture for digital success
One of the critical questions from the panel was the challenge of keeping people 'on the path of transformation'. Particularly in the context of disruption from Covid and working from home.
Simon raised the poignant point that, despite all the positives of an accelerated shift to digital for flexibility, there is a real risk in terms of culture. "If we have this webinar in two years time, are we going to be talking about a missed opportunity to nurture a culture? A lost generation? This is uncharted territory, and we are feeling our way as to how to bring all our people along with us. For example, flexibility is a given, the genie is out of the bottle on flexibility. We have to define the future of work rather than think about how we reassemble the past."
Using the language of digital transformation also helped the panel to articulate what is needed for a culture of digital success.
Gilad spoke of the importance of bringing people with you on the journey: "Middle management and all employees should be part of it. Employee experience is equally as important as customer experience. When we look at transforming analogue engines to digital engines, we need to pay equal attention to employee experience, that will make the implementation of digital transformation much easier."
Attracting and retaining the best talent
This issue of retention and attraction of talent is clearly an important factor – as literally the human element – in getting digital transformation right. Leading on from culture, the impact of Covid and changing expectations has had a significant impact on winning and keeping talent.
Barbara explained: "Because of Covid we are now breaking down all our geographical lines. We have had people moving home all around the world to places where we don't have an office in the technical sense. The point is about flexibility. Before I would have thought about trying to keep things in their box or 'manageable' but now I realise you can't do that or you're not going to get the best talent."
What to do with talent once you have it and ensuring that people can do their best work, is something that needs consideration too. Gilad added: "I think of the Steve Jobs quote, "it doesn't make sense to hire smart people and then tell them what to do". If we can bring in good people, we need to let them do their thing otherwise they will go. We need to move from command and control to challenge and empower."
Catherine spotlighted how this idea plays out in the real world: "Behaviours can be generational. So, using the example of a preference for speaking to clients using certain technology like WhatsApp. Where management would think 'that can't possibly fit our regulatory regime, compliance can't allow it'. The one thing we are having to accept across the board is that we have to move away from controls. We don't have control in the same way, so we must move to using guidance. Moving with that change rather than saying 'no' is important. Organisations that are challengers say, 'any idea that breaks the mould is a good idea'. And they get to a point where people can speak to their clients in a way their clients want to be heard."
David Jones brings the conversation back to courage regarding talent: "People know their value. People come in knowing their value, knowing they can work from home, knowing that they need the support. And so, these are things that the executive need to get comfortable with and have the courage to allow to happen, to empower that behavioural and cultural change. If you have good people you want to bring them to the front. It takes courage from the top to trust the people who are coming in."
Coming almost full circle, the best way to empower and look after talent is leadership, and specifically the frameworks that are in place around digital transformation projects. David's advice is clear: "You need to have a framework of what you are trying to achieve, people need to know what the business agenda is and what the strategy for the business is. Everything is driven by that. If you have an agenda and it is led from the top down, people can get behind that agenda and deliver to it however they see fit."
Human at the heart
Bringing all the key takeaways together you see the overall importance of the human element to digital transformation. It becomes clear that this kind of transformation cannot happen without brave leadership, empowered people, and ways of working together that embrace all kinds of change.
Positioning the work as business transformation with digital seems to go some way to reframe the conversation to put the business – and therefore the people who make up that business – at the centre of what needs to be done and how it will happen.
---